Hanse Philosophy
"Fast, easy to handle yachts, which actually belong to the category of safe ocean voyagers and quick enough to win races too"
VIGOROUS HIKING
Fast sailing in all conditions. Sailing yachts from Hanse are designed by judel/vrolijk & co, one of the best yacht designers in the world. Experiences from the Americas Cup are adapted for use in series yacht building. This guarantees a high level of fun and speed.
FAST CRUISING: SAIL FAST AND SAFELY
For many years now, we at Hanse have been setting trends towards simplifying sailing and making it faster. Traditionally, our name stands for innovative design and we have continuously developed our cruising sail boats. For instance, we have further developed the hull shapes not only by focusing on improved sailing performance and comfort alone, but also with a view on improving the lines. Together with the well-respected constructors of yachts at Judel/Vrolijk & Co, renown throughout the world for their victorious yachts in the America's Cup and in international offshore races, we have further optimised the Hanse yachts on the basis of the latest research results in the field of hydrodynamics. Thus, the Hanse yachts consequently feature vertically designed stem and stern shapes. This allows us to achieve a very long waterline. The resultant effect: a significantly increased hull speed! Likewise more effective is the optimised sail-plan. The mast was positioned further to aft. This resulted in the self-tacking jib increasing in surface area, which benefits in particular the performance in light winds. The distribution of surface area between main sail and foresail is very harmoniously balanced – the yachts feature a very balanced sailing performance indeed. Hanse yachts steer very neutrally and stress-free. They accept more heeling and therefore allow for reefing at a later point in time. Naturally, a fast-sailing yacht is not complete without prime quality sails featuring in-built performance. Even in the standard version, we equip our Hanse yachts with high-quality sails by Elvström; these are developed according to and on the basis of the construction data and performance capability of our yachts.
Sailing made easy with Hanse yachts. Thanks to the self-tracking jib included as standard and halyards, extensors and sheets led into the cockpit, the Hanse models can be sailed easily even with a small crew.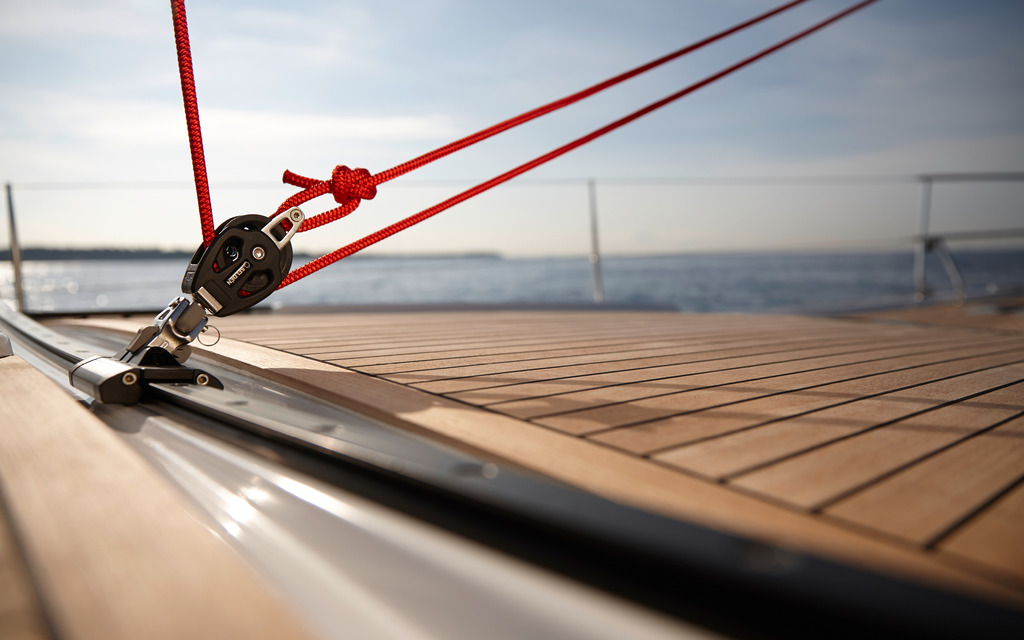 EASY SAILING: EASY HANDLING ON BOARD
How large a crew does a Hanse yacht actually need? Our answer: if you feel like it, why not sail our yachts all by yourself. In addition to improving the sailing performance, we have placed great importance on even more simplified handling of our Hanse yachts. We call this Easy Sailing and regarding this aspect we are a significant step ahead of the competition. Even our range of basic standard equipment Hanse yachts features an integrated self-tacking jib. The resultant effect: fast single-handed tacking like on a dinghy and without cranking. This is truly simplified, easy sailing! Unique in its class is also the consequent running of all halyards, sheets and cunninghams directly to aft to the helmsman. This enables the helmsman to manoeuvre the entire boat all by himself from astern – even in stronger wind! Not only sheeting in and slackening of sails, but setting or reducing sails: all this can be done in a relaxed manner from the wheel. Add to this – likewise typical of Hanse sail boats – the double-sided main sheet system, which is employed on all large ocean going racing yachts. The combination with sheet running to the helmsman has yet another attractive side effect: the upper deck remains completely free of winches and clamps. This looks good and creates space. Moreover, the cockpit is not cluttered by a main sheet lead. By the way, at Hanse, the easy handling is not limited to sailing alone. With a combination of bow thruster and stern thruster, docking and casting off turns into a piece of cake even in the smallest of harbours. Relaxed sailing, relaxed manoeuvring and relaxed enjoying the day.
Individual equipment and design of the yacht. An inexhaustible selection of colors, fabrics, wood and floorings make every Hanse a unique creation.
INDIVIDUAL CUSTOMIZATION: DESIGN YOUR DREAM YACHT
The Hanse Individual Cabin Concept is unique in the field of serial production sail boat building! And it absolutely lives up to its name. For instance, we offer you a choice of numerous colours for the hull and construction water line. Should you choose to have a lacquered hull instead of a gelcoat hull surface, then the range of colour design is almost without limits. With a Hanse yacht it is a bit like with an interior design studio: design your very own dream yacht according to your individual needs, choosing from a multitude of types of wood for furniture and flooring and a broad range of fabrics and colours. You have the choice between more than 1,000 combinations. Of course, you also have the choice between numerous types of layout. For example: double cabins astern, likewise double cabins in the prow or, alternatively, a huge owner's cabin in the prow. You can choose between various kinds of wet rooms. Should you wish, there even are differently designed double cabins available. On your new Hanse yacht, we offer you the same freedom of interior design you are used to having in your home.
Innovative design in the exterior and interior are characteristics of the Hanse brand. This has been underlined with numerous awards. Modern shapes, colors and fittings make every Hanse a real eye-catcher.
INNOVATIVE DESIGN: "FORM FOLLOWS FUNCTION" – THIS IS OUR CREED
At Hanse, we vouch for innovative design and this is precisely what guides us in developing each new Hanse yacht. Modern design featuring elegant and independent lines – and of course also technical innovation usually associated with one-off luxury class yachts. All this is tied together with the greatest possible value of benefit. And with us, customer benefit always is a priority. This creed is evidenced by each new Hanse yacht, manifesting itself in many details combining design and practical effect. For example, the particularly flat and very stylish companionway is a new introduction. One no longer climbs the ladder, one walks up the stairs!! Just as one does through the many flush design hatches on deck. Another beautiful effect: the saloon receives significantly more light. The saloon with the long port side galley, a dividing block midships, from which the optional television screen emerges electronically, and the saloon table with comfortable sofas all around on starboard – this is the heart of the interior and where the crew's life below deck finds its centre. Situated directly next to the companionway, one instantly notices the new, extremely generously spaced navigation area. It offers plenty of space for instruments, plenty of surface, so that the navigation area may be used also as an office. The ideal location for the owner's cabin is the large prow with a big island bed, many shelves and a television set in just the right position. There is plenty of wardrobe space and the cabin's heads and shower are separated from each other. All this is elegantly designed and low maintenance. The aft cabins are likewise generously spaced, offer plenty of headroom and maximum size berths. The wet room in the saloon is a marvel when it comes to space. It is broad and features a separated, spray water protected shower cubicle.